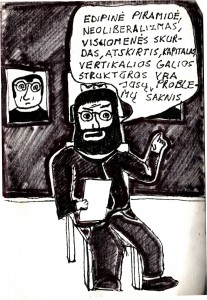 [LT] Infošope prasideda komiksų piešimo būreliai – pirmą kartą tinkamės šį ketvirtadienį 18val.
Pirmojo susitikimo tema: darbo diena. Pasak infokrautuvės vieno iš darbuotojų, "tai yra neišsemiama, aktuali tema, kuria galima save išreikšti ir pamatyti naujomis akimis mūsų bendraminčių ir draugų realybę. Mums reikia visiems daug mažiau dirbti. Mūsų darbo dienos būna visokios – įdomios, neįdomios, pilnos konfliktų ar gražių draugysčių. Galbūt darbe yra daug prieštaravimų, kuriuos norisi išreikšti vizualiai, tarsi išsikrauti ant popieriaus lapo."
Jums bus suteiktas popieriaus lapas, piešimo priemonės, bet dėl viso pikto galit atsinešti ir savų priemonių, kad visiems tikrai užtektų.
[EN] Comix workshop is starting in infoshop. The first session is on Thursday at 18pm.
The first topic is "working day". According to one of worker of infoshop, "this is inexhaustible, important topic, in which one can explore self and our friends realities of everydayness.  We need to work less. Our working days are simmilar and different – interesting, boring, full of conflicts or lovely friendships. Maybe work contains lots of contradictions, which you want to visualize on the paper."
We will provide paper and working tools, but if you have some, bring with you that there won't be a shortage.