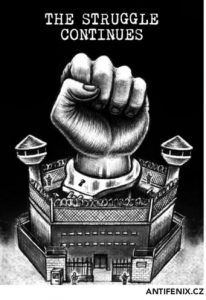 [lietuviškai – žemiau]
all the info: https://antifenix.noblogs.org/
People from Czech ABC (Anarchist Black Cross) are touring Europe with their talk on the last 15 months of police persecution: the infamous operation Fenix swept Czech Republic, leaving several people on the radical left imprisoned with no good proof of any incriminating action. Here is what they want to talk about:
"For over 15 months the anarchists and others from so called Czech Republic have been facing the biggest police crackdown in recent years.
The operation Fenix isn't only the wave of repression. For the first time we facing police entrapment, provocation, fabricated plots, and historically first "serious" accusation of terrorism. Why is all of that happening right now? Is the repression really responsibility of the most militant part of the movement and does it help if we step back, or is there any other lance and way to deal with the authoritarian power of the state?
Come and join an ABC reflection of one and a half year of accelerating repression and our reaction. Let's talk about our protection and share some experiences of how to prevent falling into the trap. Now when the first court hearings are happening it is especially important to see what kinds of solidarity actions we can provide to empower ourselves and keep our community strong instead of getting paranoid and paralysed."
The event will happen at pizza and falafel place "Antras Aukštas", Prancūzų g. 40, on September 27th, Tuesday, 18:00
[LT]
daugiau informacijos https://antifenix.noblogs.org/
Žmonės iš Čekijos AJK (Anarchistų juodojo kryžiaus) keliauja po Europą pasakodami apie paskutinius 15 mėnesių teisinio persekiojimo: per Čekiją praūžusi operacija "Feniksas" pasibaigė kelių žmonių įkalinimu be jokio aiškaus pagrindo. Štai kaip jie pristato savo kalbą:
"Jau ilgiau nei 15 mėnesių anarchistai ir kiti vadinamosios Čekijos Respublikos gyventojai susiduria su vienu didžiausių policijos vykdomų persekiojimų šalies istorijoje. "Feniksas" nėra vien represijų banga. Pirmąkart susiduriame su provokacijomis, išgalvotais scenarijais ir "rimtais" kaltinimais terorizmu. Kodėl visa tai vyksta būtent dabar? Ar už represiją tikrai atsakingi radikaliausi judėjimo narės, ar laikytis nuošalyje yra geras kovos būdas, o gal yra kitų kelių priešintis autoritariškai valstybės galiai?
Kviečiame sudalyvauti AJK pasakojime-diskusijoje apie pusantrų metų trukusias represijas ir mūsų reakciją į jas. Pakalbėkim apie saugumą ir pasidalinkime patirtimi, kaip nepakliūti į panašius spąstus. Dabar, kai teismo posėdžiai jau įsibėgėjo, itin svarbu klausti ir suprasti, kokiomis solidarumo akcijomis galime įgalinti save ir savo bendruomenes, kad netaptume paralyžiuotais paranojikėmis."
Susitikimas vyks picerijoje-falafelinėje "Antras Aukštas", Prancūzų g. 40, rugsėjo 27 d., antradienį, 18 val.